Gallery Puzić cordially invites you to the opening of its new exhubition with objects and drawings by Silke Brösskamp, and paintings by Matthias Brock, on Sunday, April 30, 2023 at 5 p.m. in Johannis Strasse 3A, 66111 Saarbrücken.
The new exhibition, Untitled, casts a shadow over contemporary art and its often futile efforts to create moral or political standpoints on cultural climate change or the proclaimed crisis turning points. Art usually fails. And when it escapes into aesthetic forms or revives old genres, such as drawings or still lives (Nature Morte), it is often judged in a derogatory manner, or even disregarded.
However, one could also classify the exhibited drawings of Silke Brösskamp's fragile – sad series "I fail to see" and the overripe, melancholy fruit paintings by Matthias Brock as provocative and highly topical at the same time. Because they turn our gaze to transience and dystopia, they laugh at us as if from afar, from Ernst Jünger's marble cliffs, they botanize close to the abyss and allow ugly – beautiful brutality as well as biomorphic decay and rottenness to appear sensually tangible. Perhaps they are just pretending to be nature morte, and are vividly reveling in the infertile, filigree, rotten things, drawn out as if forensic artefacts of a mysterious crime scene. Our double exhibition by two artists from North Rhine Westphalia conceals a plea for idiosyncratic phenomena, a lateral thinking in the fog of reason, also a sense lapse, so to speak, because both work cycles also claim something frighteningly fairytale – poisonous stuff in the terrain of our dying forests, in the ruins of capitalism, our formerly opulently decked tables. The fat years are over…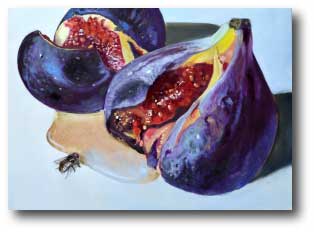 Matthias Brock
"Und Früchte will ich kaufen, Früchte, drin das Land noch einmal ist, bis an den Himmel. Denn Das verstandest du: die vollen Früchte. Die legtest du auf Schalen vor dich hin und wogst mit Farben ihre Schwere auf."
Aus: R. M. Rilke "Requiem (Für eine Freundin)"
These verses poetically dedicated to Paula Modersohn-Becker express what I try to put into my fruit pictures: the quintessence of a country, of a landscape, concentrated, but at the same time large up to the sky; the abundance as a praise of life and the enjoyment of the senses; the heaviness as the weight and significance of the substance, which in its core contains the seed of death as well as of a new beginning.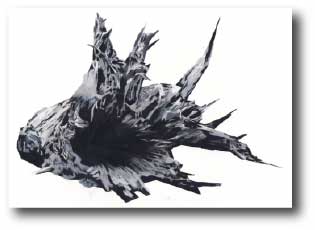 Silke Brösskamp
Silke Brösskamp's site-specific spatial sculptures, objects and serial drawings are always created through the interplay of planning, chance and openness – triggered by everyday observations, films, images, emotional experiences. The series I feel to see reflects her fascination with the beauty and brutality of the destruction of native forests.
Silke Brösskamp studied visual communication, then free art at the art academy in Münster with Reiner Ruthenbeck and as a master student of Kathrina Fritsch. Her works have already been shown in numerous solo and group exhibitions and have received several awards.