at the closing night/Finissage, 9 July, 2023, at 17:00
Admission is free
The exhibited works of the show "Nothing New in the East," particularly Gega Paksashvili's "Yellow" series, speak to us with their own provocative language; the photographs, graphic prints, paintings and objects by Kristina Bajilo, Alina Panasenko, Mensud Kečo, and Esad Puzić are complemented by the media installation by Gordana Novaković, which offers a fascinating look back at the beginnings of media and computer-aided electronic art in the former Yugoslavia ( 1989-1991), as well as film screenings on the last Sunday of the exhibition:
(1) Wormwood Maria, by Rastko Novaković & Beatričė Bukantytė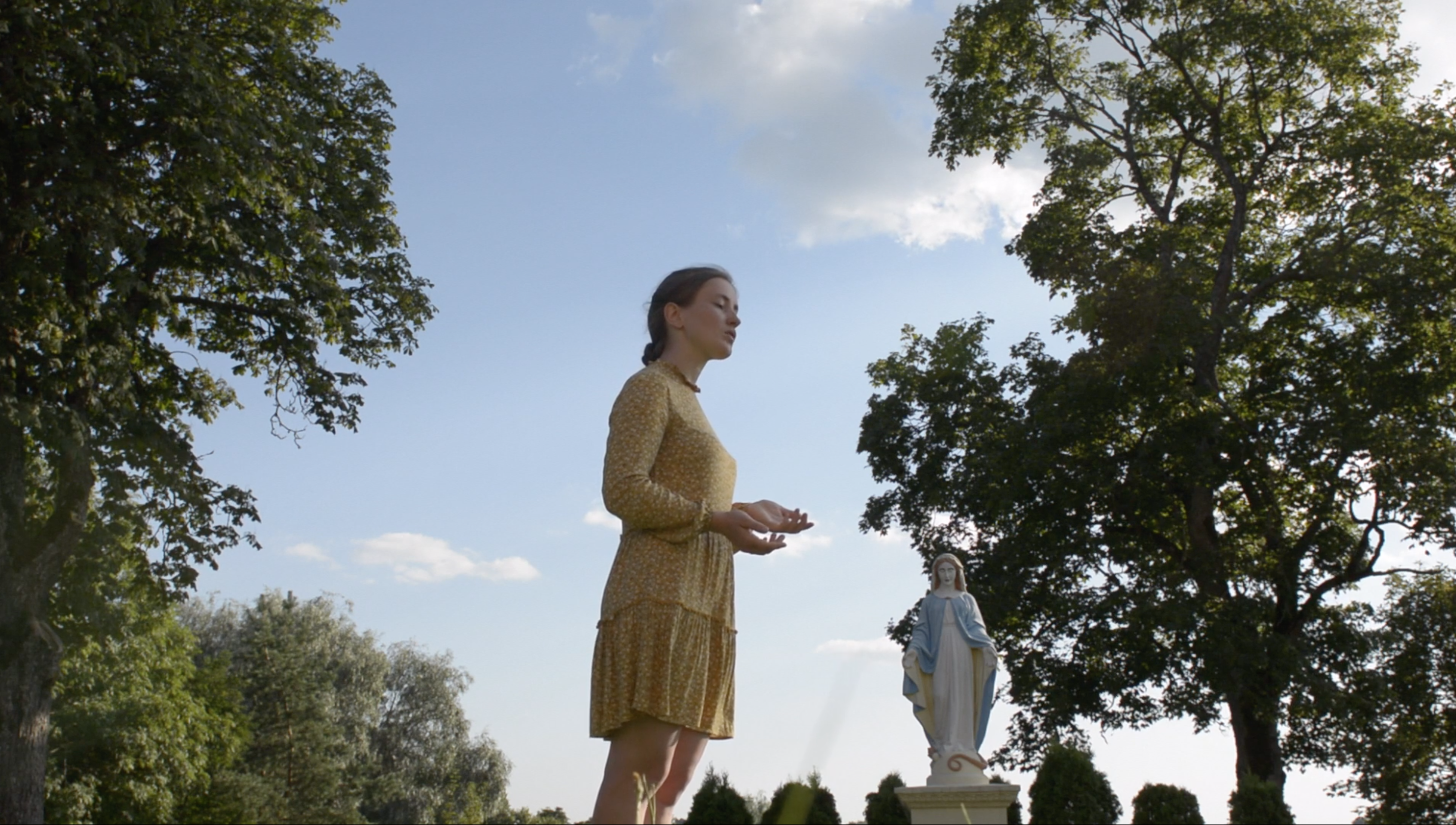 (2) Zwei Kurzfilme aus dem Projekt Into myPlanet (Martian, Jupiterian) der transrealistischen Künstlerin Armine Vosganian.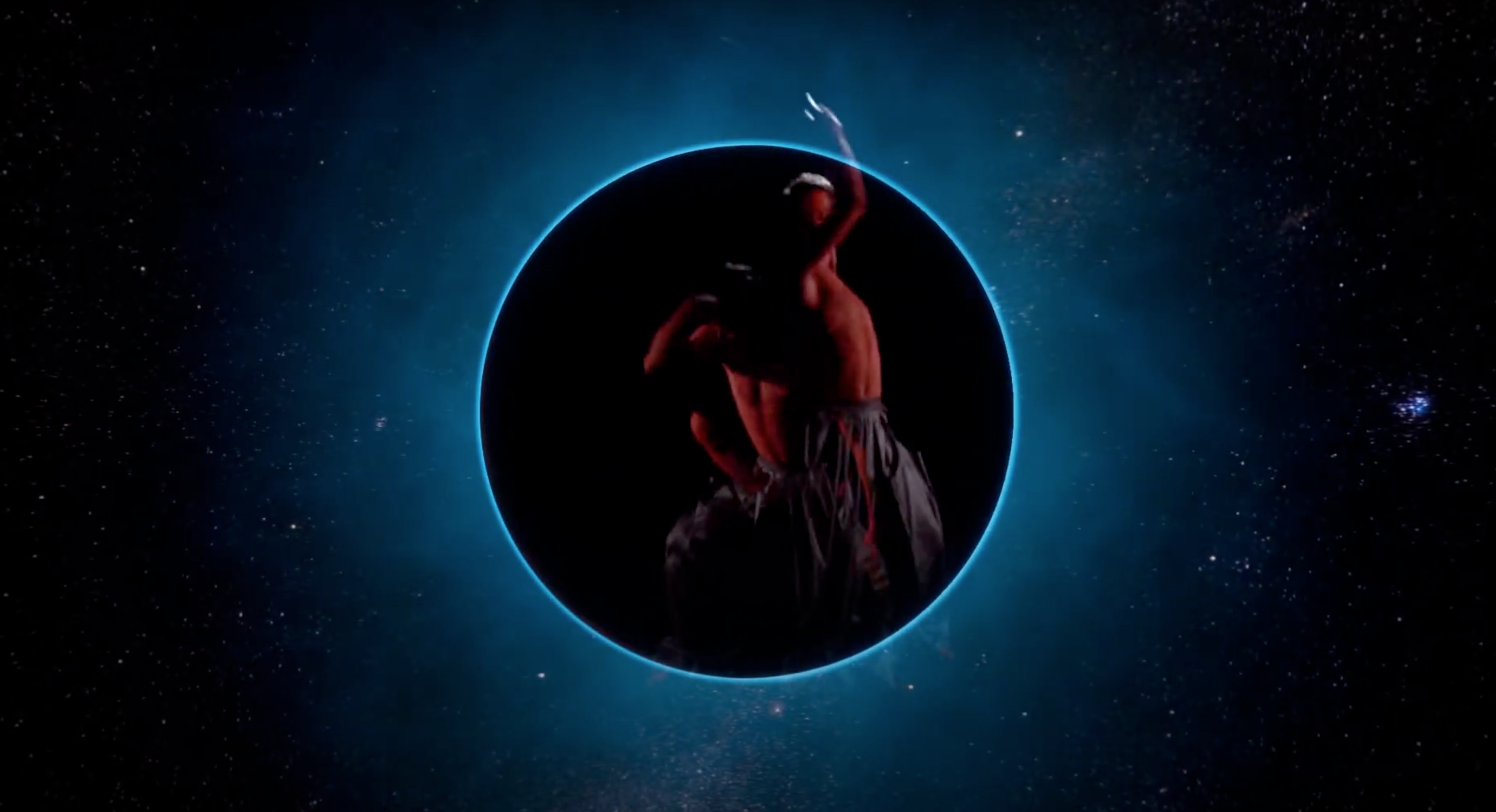 Short description of the film artworks:
(1) Wormwood Maria (Pelyno Marija)
"Wormwood Maria" is based around two monologues of confrontation. In a charged Lithuanian landscape, a man remembers his past desires, vagabond journeys and betrayals from the 1930s and 1940s. Nearby, a young girl confronts the statue of the Virgin Mary with dreams, songs and injustices from the past.
Directors' Statement
"Wormwood Maria" (Pelyno Marija) is a response to the landscape and history of the small town of Luokė in Lithuania. Each location filmed is a site of remembrance: the massacres of local Jews in the 1940s, the graves of partisans killed in the 1940s and 1950s and victims of World War II. Also featured is the churchyard of Luokė's Church of All Saints, which is one of the oldest Catholic churches in Lithuania, established in 1416. We were equally interested in how this landscape shows itself in the present: everyday village life and the life of plants and animals at the height of summer. The way the horizon divides the landscape and the movement of the sun and moon were as important to us as the human domain. Two unnamed figures, a man and a young girl each perform monologues which cut across the violent history and sensory richness of the landscape.
We worked with three translators to render the writing of Dante Alighieri, Jean Genet and the Yugoslav surrealist Aleksandar Vučo into Lithuanian. These texts together form a texture which moves between our everyday observations, via old local rhymes to Dante's moral questions. Genet's interrogation of bourgeois and christian morality is placed side-by-side with the poetic memoirs of a surrealist during his time in a Nazi concentration camp. In this way, layers of thought, emotion and European history from the last 700 years are brought into coexistence in Lithuanian, in Lithuania.
The two performers bring their lilt, gait and simple gestures to the staging. It was important to record sound at the same time as the images – in this way the performers were able to interact and coexist with the richness of their surroundings. The performers do not attempt to create characters, but recite and follow Bertolt Brecht's advice: "Instead of wanting to create an impression that he is improvising, the actor should rather show what the truth is: he is quoting." Brecht's work on 'estrangement' and his advice for utilising irregular rhythms in the actors' diction were useful to us in inviting a questioning and open response in the audience. Also important were his ideas on epic theatre, one which is not based on plot and linear development, but put more value in telling and a collage approach.
Biographies
Beatričė Bukantytė is an artist whose practice spans across fields of experimental performance, film and photography. Informed by philosophy & practice of butoh, techniques of voice & dance improvisation, it can be approached as a process and practice-based study into questions of autonomy, identity, creativity and transformation. Often working collaboratively, her practice also expands to organization and facilitation of events, workshops and teaching.

Rastko Novaković is an artist, filmmaker, curator, mainly working with
the moving image. His practice is collaborative and over the years he
has completed over 60 moving image works, ranging from 1 minute lyrical
films, via campaigning films, music videos, multi-platform videos,
outdoors installations to feature-length films. His work explores the
recurrent themes of memory, landscape, the poetics of everyday life,
social justice.
(2) Into myPlanet, directed by Armine Vosganian
Martian,  9'07" 
Martian presents real footage from Mars combined with 3D animation of celestial elements, hindu symbols and Greek ruins that reminds us of god Ares ( Vlad Troncea) and the force of war. We don't see him fighting with anyone, but himself. He is alone and his inner conflicts burst and he struggles to find peace.
Jupiterian, 9'45"
Jupiterian is a visual parallel to the creation of the Earth inspired maily from the Hindu legend. Vishnu, the Blue god who dreamt of the Universe while resting on Shesha Naga, the celestial snake. The planet Jupiter is related with Vishnu, but we see god Zeus, as well, because he has full authority on humans. The second character is Mother Earth.
These two experimental short films are part of the Into myPlanet project,  multimedia show for electronic realm, video mapping design and dance- represents a complex opus by the composer Mihaela Vosganian. The music is inspired by kabbalistic philosophy, actual sounds of planets transcoded by NASA and Hindu mantras. Both pieces intertwine visual elements from Hinduism such as chackra symbols, ancient Greek characters and planets.
Biography
Armine Vosganian is a Romanian- Armenian actress and film director. She has graduated from both Theatre Acting and Film Directing in 2014 at National University of Theatrical Arts and Cinematography in Bucharest, Romania and continued her education at London Film School for an MA filmmaking program and had become a doctor in Cinema and Media Studies.
She has written and directed several fiction films and adapted her father's novels (Varujan Vosganian and her mother's musical operas (Mihaela Vosganian) on screen and international stages. She is the co-founder of Rampa theatre and one of the pioneers of Romanian telematic theatre, being introduced to it by theatre director Marina Hanganu. At the moment, Armine is documenting the Armenian Diaspora through cinema.