Vom 13. bis zum 16. Juli findet in Saarbrücken das "Experimance" Festival der Klangkunst/Sound Art statt. Gallery Puzić ist einer der Veranstaltungsorte in der Stadt.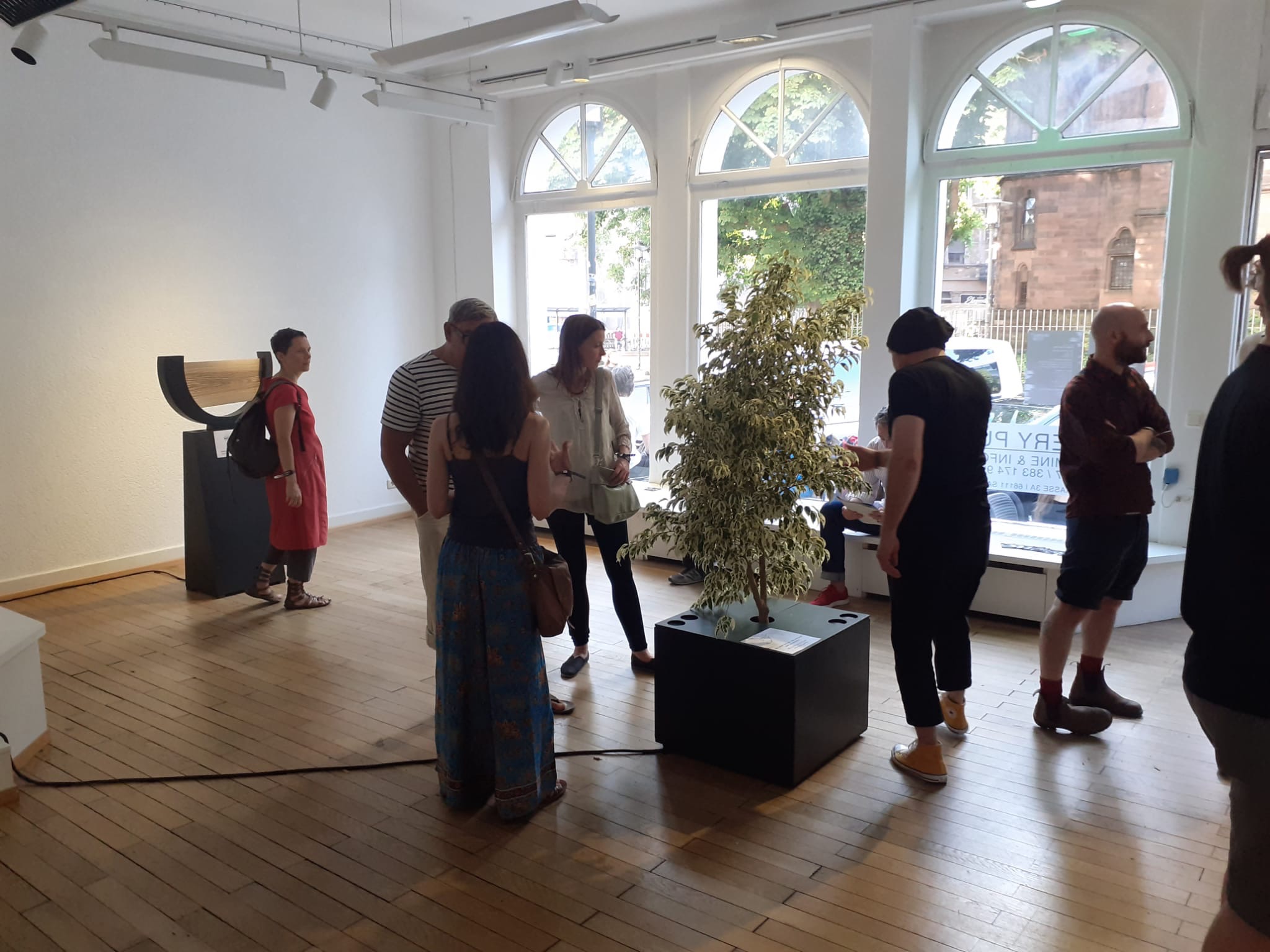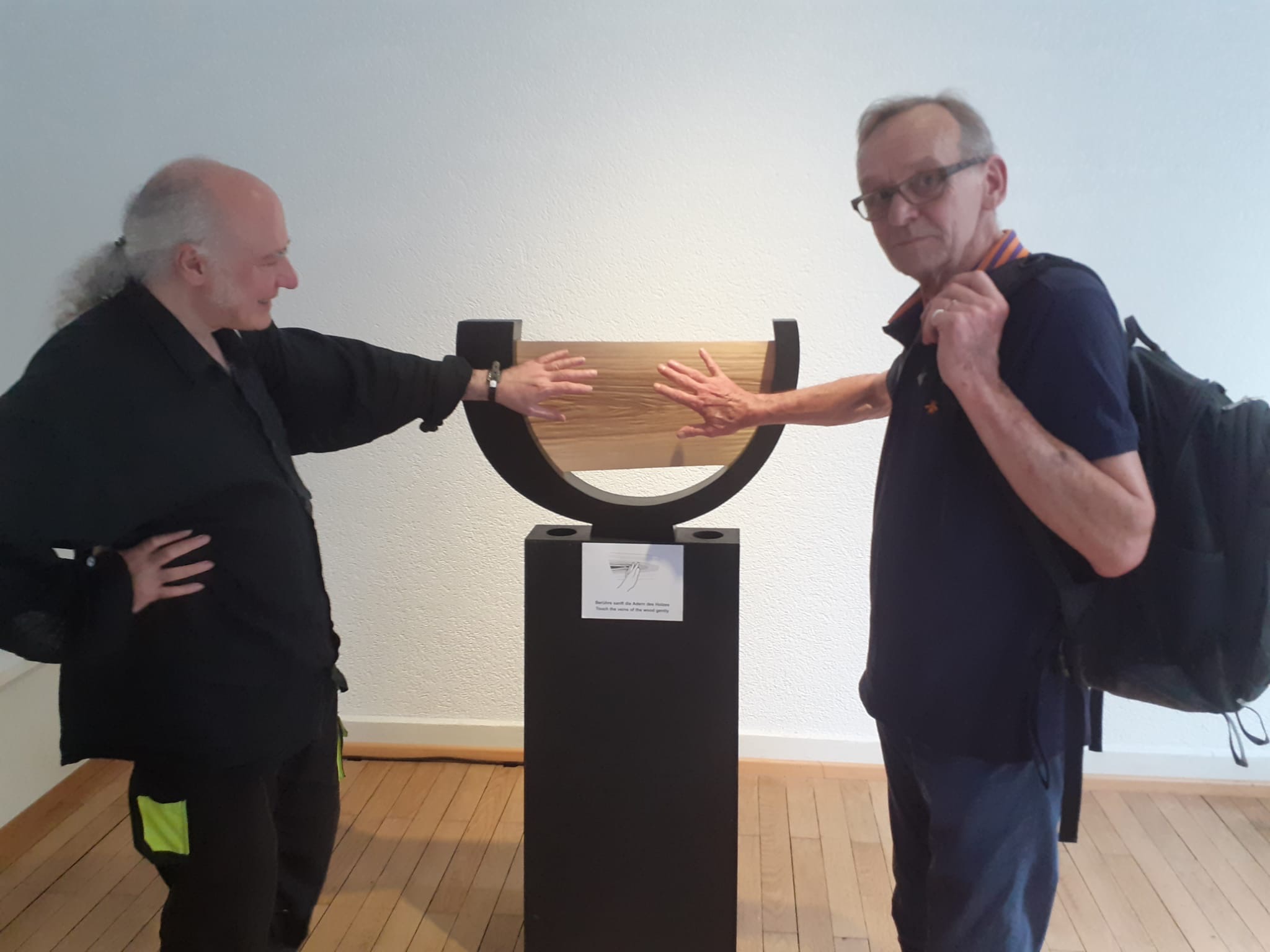 "Experimance" — Experimental Music, Sound Art & Performance Festival in Saarbrücken takes place over four days, including installations at Gallery Puzić:
Join us Friday, Saturday and Sunday (July 14-16) to experience exciting new sonic works by Scenocosme (Anais met den Ancxt & Gregory Lasserre), and by Alan Affichard.
Three works are exhibited: the large-scale electro-acoustic installation "Alternative tribology" by Affichard; and "Phonofolium" and "Matières Sensibles" by the French collaborative team Scenocosme.
Alan Affichard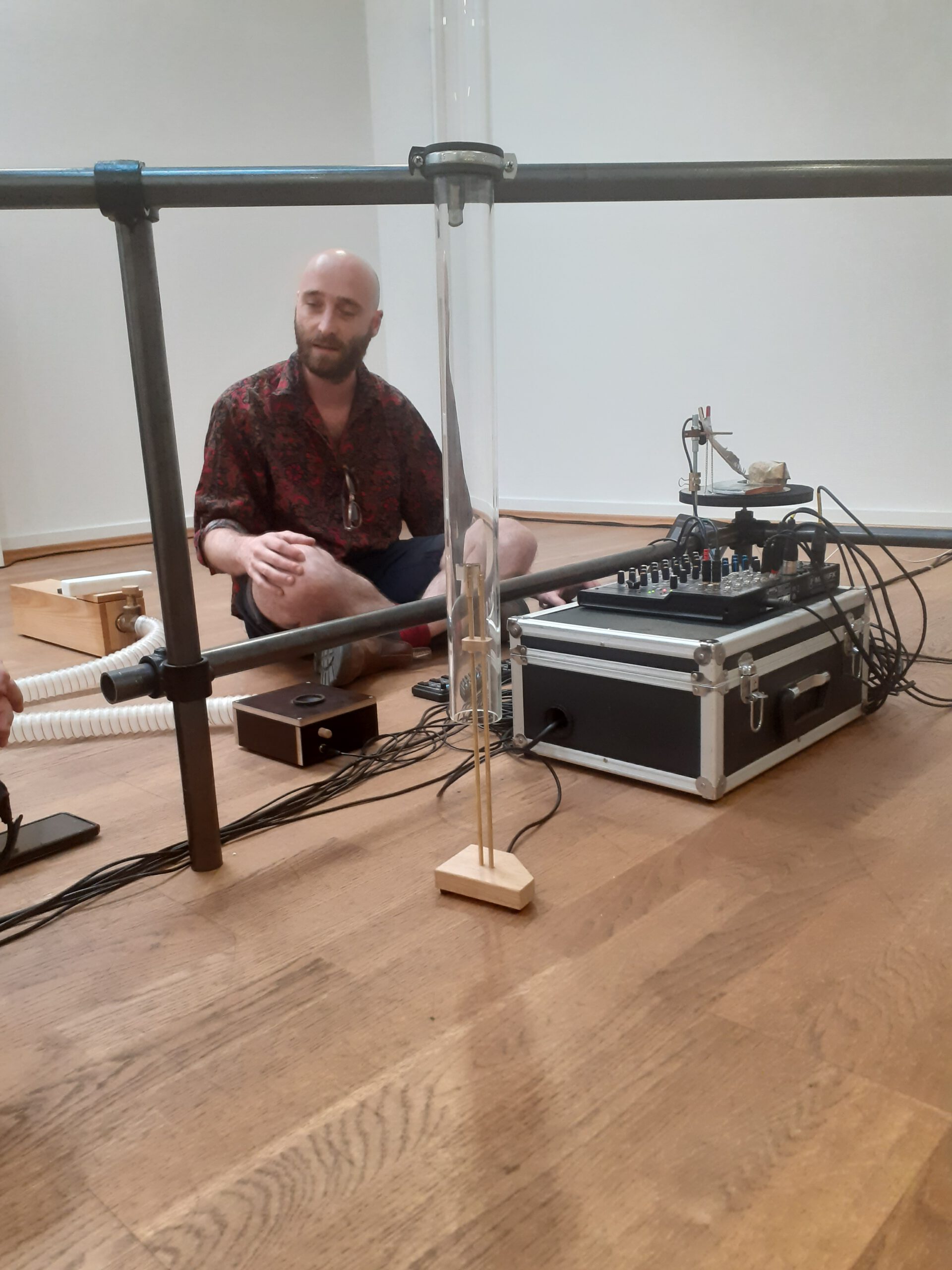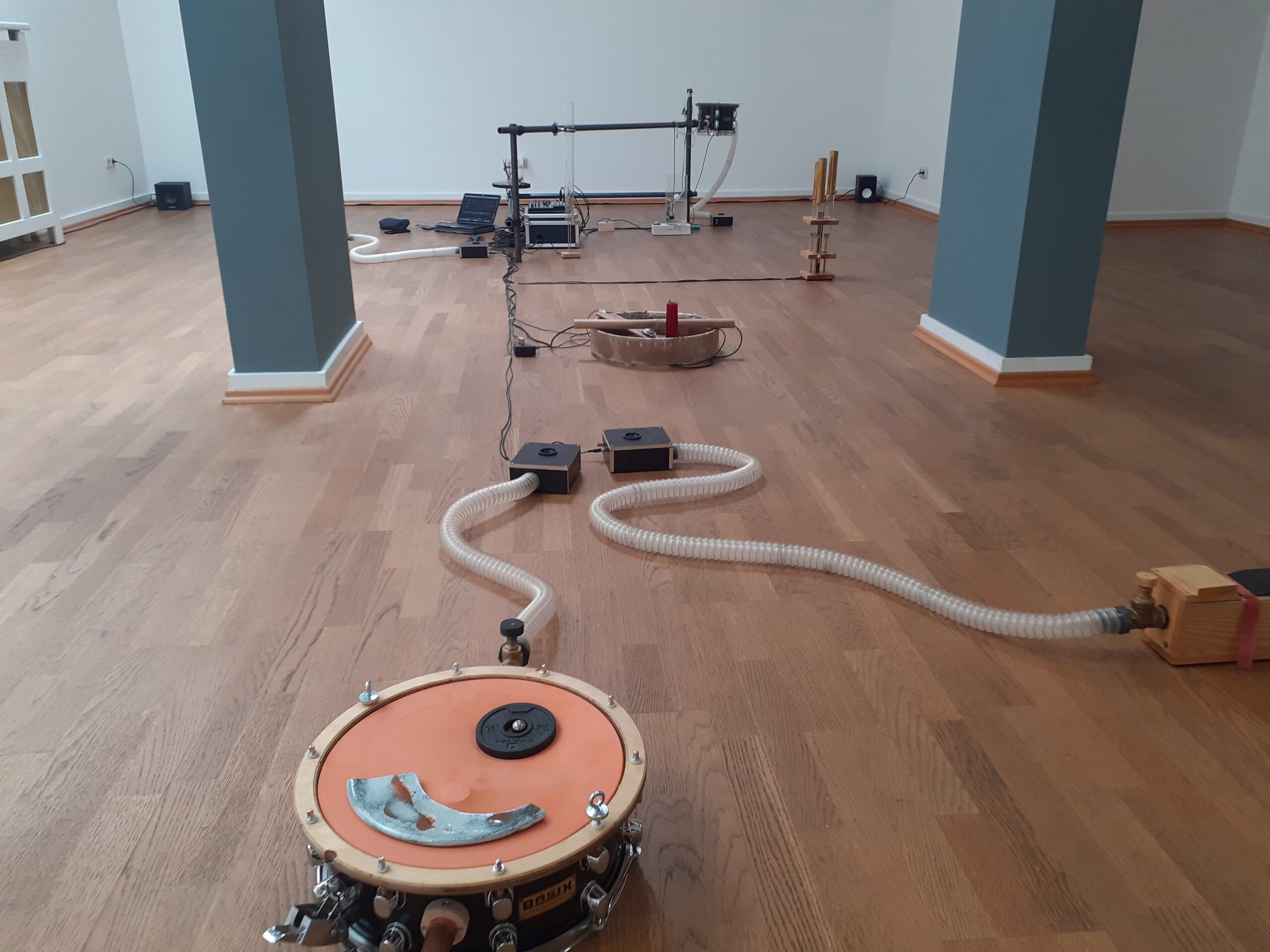 Alternative tribology, Sound installation, 2022
Click here to see film interview with Johannes Birringer
Alternative tribology is an ongoing research that explores various phenomena of frictions through a series of handmade electro-acoustic instruments. Bringing together several attempts to measure forces of friction with and through sound, these sound objects connected together are activated by air pressure, electric relay and vibratory processes, then amplified by microphones and hydrophones. Inspired by visual forms from archeology and laboratory, the installation tries to rethink the notion of instrument, using the mechanics of fluids, heat and energy transfers as elements for sound composition.
[français]
«La tribologie alternative» est une recherche en cours qui explore divers phénomènes de frictions à travers une série d'instruments électro-acoustiques faits à la main. Réunissant plusieurs tentatives de mesure des forces de frottement avec et par le son, ces objets sonores connectés entre eux sont activés par la pression de l'air, des relais électriques et des processus vibratoires, puis amplifiés par des microphones et des hydrophones. Inspirée des formes visuelles issues de l'archéologie et du laboratoire, l'installation tente de repenser la notion d'instrument en utilisant la mécanique des fluides, la chaleur et les transferts d'énergie comme éléments de composition sonore.
Bio :
Alan Affichard is a French artist based in Berlin. Through installations and performances, his practice focuses on sound not only as a medium, but also as a method of inquiry. Experimenting with techniques from various fields such as instrument making, traditional crafts, and computer programming, he creates works that reveal acoustic dynamics as well as their instabilities.
[français]
Alan Affichard est un artiste français basé à Berlin. À travers des installations et des performances, sa pratique se concentre sur le son non seulement comme médium, mais aussi comme méthode d'enquête. Expérimentant des techniques issues de domaines variés tels que la lutherie, l'artisanat traditionnel et la programmation informatique, il crée des œuvres qui révèlent les dynamiques acoustiques ainsi que leurs instabilités.
+ + +
Scenocosme : Anaïs met den Ancxt & Grégory Lasserre
Phonofolium
Interactive and sonorous tree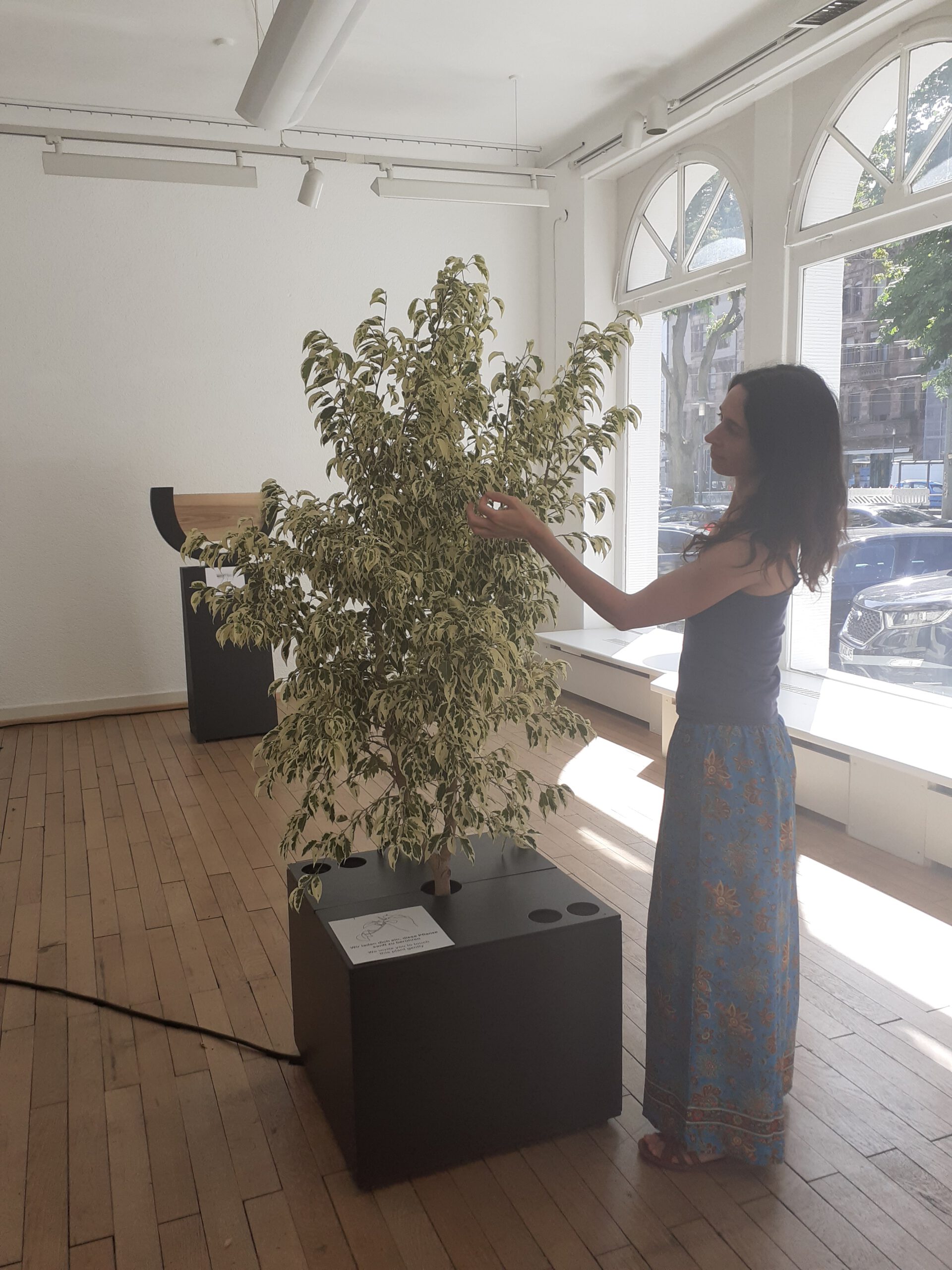 Phonofolium is an interactive artwork with a living tree reacting to the human touch by a sound, a voice. This tree «language» occurs through touch and the close proximity of the spectators, thanks to their electrostatic energy. The tree sings when the audience is touching or stroking lightly it.
In their artwork, the artists Scenocosme create hybrids between plants and digital technology. Plants are natural sensors and are sensitive to various energy flows. Digital technologies permit them to establish a relationship between plants and sound. They display the effects of random data flow and plant interaction. The data is modified as the spectator meanders around and touches the installation, resulting in a random musical universe. Audience contacts with plants generate sound effects and change in the texture of the sound. There is a specific vegetal language through sonorous compositions. They signify a character, a behavior having a feedback, an influence on the reaction, on the feeling and on the approach of the spectator.
[français]
Phonofolium est une œuvre interactive présentant un arbuste qui réagit au moindre contact humain par un langage, un caractère sonore. Sensible à notre énergie électrostatique, cet arbuste réagit à notre toucher et à notre proximité. Ainsi, lorsque les spectateurs le caressent ou l'effleurent, celui-ci se met à chanter.
À travers leurs créations, les artistes Scenocosme travaillent sur des hybridations possibles entre végétal et technologie numérique. Les plantes sont des capteurs naturels et vivants, sensibles à des flux énergétiques divers qu'ils proviennent de nos corps ou de l'environnement où elles sont exposées. Ils interprètent les flux perçus par l'arbre en proposant une interaction sonore. Ils abordent un traitement, une modification des données liée aux interventions des spectateurs dans l'œuvre. Leurs contacts avec l'arbre permettent d'en modifier les teintes et les fluctuations. Cette œuvre propose un langage végétal spécifique qui se manifeste à travers une composition sonore signifiant un caractère, un comportement. Celui-ci influence les rétroactions, les émotions et l'approche du spectateur.
Matières sensibles (Sensitive matters)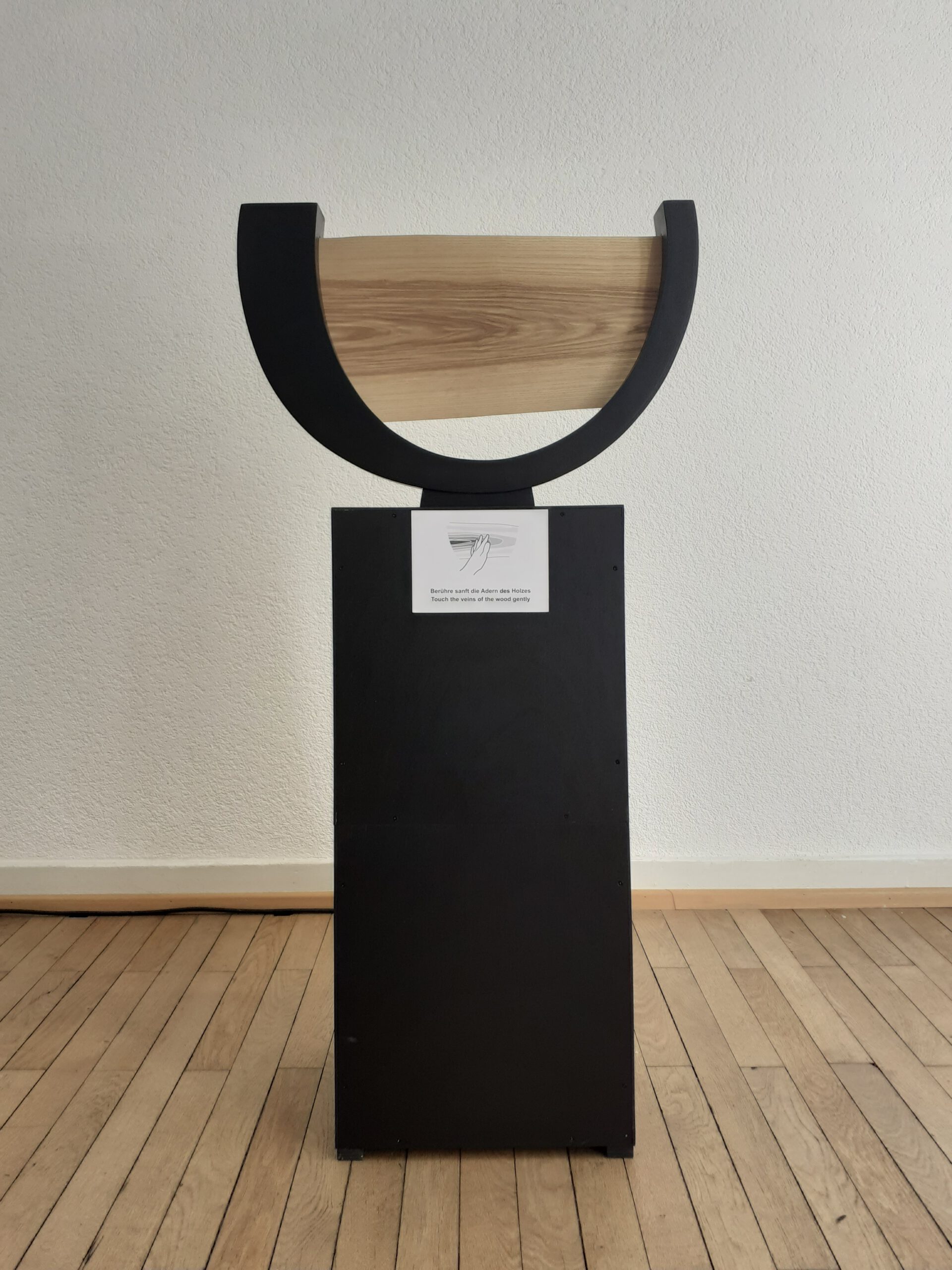 Sound Sculpture on wood / Interactive marquetry & Bio hacking
Matières sensibles (Sensitive matters) is a series of sculptures made of very thin and delicate wood veneer sheets. Here the artists use ash wood. These sheets of wood have distinct sonorous touch zones that follow the natural veins of wood. The researches of Scenocosme have enabled them to develop an artistic and technical process invisible and delicate.
A meticulous and invisible design work gives them the ability to define a musical score spread over different areas of the wood. They have invented this process of Bio hacking that they call «interactive marquetry».
Their wood sculptures produce sounds when the spectators touch them. They use sounds to stimulate haptic and gestural behaviour. Thus, the design of these sculptures looks like instruments which reveal by the touch various kind of sounds. According to sculptures, the relation can be sonorous or at the same time visual and sonorous.
[français]
«Matières sensibles» est une série de sculptures réalisées à partir de feuilles de placage de bois très fines et délicates, ici de frêne ondé. Ces feuilles de bois possèdent des zones tactiles sonores distinctes qui suivent les veines naturelles du bois. Les recherches de Scenocosme leur ont permis de développer un processus artistique et technique invisible et délicat. Ce travail minutieux leur donne ainsi la possibilité de composer une partition sonore sensible qui se révèle au contact des différents dessins du bois. Ils ont inventé ce procédé de Bio hacking qu'ils nomment «marqueterie interactive».

Les sculptures de bois de Scenocosme produisent des sons lorsque que les spectateurs les frôlent. Elles frémissent, ronronnent, crissent… émettent des timbres sonores variés. Ils utilisent ici les sons pour stimuler un comportement gestuel et haptique. Ces sculptures ont ainsi été conçues sous la forme d'instruments qui révèlent au toucher différentes sonorités. Selon les sculptures, la relation peut être sonore ou à la fois visuelle et sonore.
Depuis plusieurs années, les artistes Scenocosme créent des oeuvres interactives dans une démarche singulière d'hybridation entre éléments naturels et technologie. Ils dessinent des interrelations symboliques et sensibles entre le corps et l'environnement qu'il soit naturel ou social. Ces sculptures de bois proposent une relation intime et sensorielle entre le bois et le corps du spectateur en révélant une mémoire sonore au contact physique de la matière. Ils utilisent le bois comme une surface interactive sensible dont l'énergie électrostatique du corps humain est l'élément déclencheur. Les zones interactives suivent exactement les veines du bois.
Bios
The artists Gregory Lasserre and Anais met den Ancxt work under the name Scenocosme. They live in the Rhone-Alpes region in France.
Their singular artworks use diverse expressions: interactive installations, visual art, digital art, sound art, collective performances etc…. Scenocosme mix art and digital technology to find substances of dreams, poetry, sensitivity and delicacy. These artists overturn various technologies in order to create contemporary artworks. Their works came from possible hybridizations between the technology and living world (plants, stones, water, wood, humans…): their meeting points incite them to invent sensitive and poetic languages. Most of their interactive artworks explore various relationships between the body and the environment. They afford energetic variations of living beings and are designed as interactive stagings in which spectators share extraordinary sensory experiences.

[français]
Le couple d'artistes Scenocosme réunit Grégory Lasserre et Anaïs met den Ancxt.
Leurs créations singulières prennent forme à travers diverses expressions : installations interactives, art plastique, art numérique, art sonore, performances collectives etc… En distillant la technologie numérique, ils en font ressortir des essences de rêve et de poésie, ils en utilisent ainsi la partie vivante, sensible voire fragile.
Ils développent la notion d'interactivité, par laquelle l'œuvre existe et évolue grâce aux relations corporelles et sociales des spectateurs. Ils réalisent d'étonnantes hybridations entre technologies et éléments vivants ou naturels (végétaux, humains, eau, bois, pierres…). La plupart de leurs oeuvres interactives perçoivent diverses relations invisibles entre les corps et l'environnement. Ils rendent sensibles les variations énergétiques infimes des êtres-vivants en proposant des mises en scène interactives où les spectateurs partagent des expériences sensorielles extraordinaires.

+ + +